A New Venture
For years and years I relied on a Philips Clock/Radio/Cassette Alarm to wake me up in the morning. It gave good service, despite some annoyances - e.g. if you wanted the alarm buzzer to wake you in the morning you had to move the selector switch to 'buzz' when you set it at night which meant you coudn't listen to the radio or cassette while falling asleep. However, I lived with that, and after I got early retirement I didn't need the alarm all that often anyway. About two years ago I replaced it with as more up-to-date model which had a CD player in place of the cassette player. Apart from that the new machine, also from Philips, although very differently styled, worked in pretty much the same way as its predecessor. However, it has proved to be much less reliable. The CD player has been playing up since the turn of the year and finally packed in altogether a couple of weeks ago.
After some debate I decided to buy something more sophisticated and chose a Roberts CRD-36 to replace it . It's proved to be a great buy. It's nicely designed, well thought out and oozes quality. At last I've got an alarm (four actually!) that allows me to fall asleep at night listening to the radio or a CD but can still wake me with an increasingly loud beep in the morning (no way would a radio or CD waken me). Oh, and joy of joys, it's got a remote control that can control everything so, once comfortably settled under the duvet, there's no need to sit up again to change radio stations or adjust the volume etc.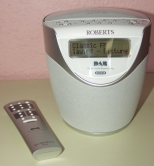 Roberts CRD-36
This is my first venture into DAB digital radio. I've considered it before but my flat has a reception problem where radio is concerned. The bedroom in particular has an enormous 'dead' spot' where radio reception just disappears altogether and other rooms are similarly affected so up 'til now I've been reluctant to risk forking out the dosh for a digital radio in case I didn't actually get any reception with it. On this occasion I decided to take the chance and it paid off - 36 digital channels, clear as a bell.
An additional feature of this new piece of kit is a slot for an SD (Secure Digital) memory card. At first I didn't think I'd have much use for this facility but as CD's started piling up on the bedside table it dawned on me that by ripping CD tracks to a SD card I could have a ready supply of music to hand without the clutter caused by the CD cases. For those who are not familiar with them I should say that the SD card itself is about the size of a regular postage stamp and even in the protective plastic case it takes up less space than a book of matches.
A bit of 'Googling' found several freeware programs that would rip audio tracks from CD's and convert them into MP3 files. After a few false starts - one program seemed to do the business but turned out to have a bug which rendered it next to useless, while another looked impressive, with all sorts of options and settings, but appeared to lack any means of telling it to start the actual ripping process - I settled for FreeRip which is freeware and which I'm really impressed with.
And So To Downsizing
What, you may ask, has the above got to do with 'downsizing'? Well, as I've sat here ripping CD tracks my memory has flown back down the years and alighted on my father's record collection. As I grew up in the 'forties and 'fifties my dad had a fairly extensive record collection, mostly classical, which he had built up over many years. To play them he had a Decca 'Decola' radiogram which was his pride and joy. The records of course were all '78's'. A typical symphony would occupy maybe four to six records and, of course, it was impossible to listen to even a single movement of a symphony or concerto without at least one record change (sometimes more) during it. Now, here I am saving tracks to a tiny plastic card, less than half the size of a book of matches, just a handful of which could probably have swallowed up Dad's entire collection. On a single 1 Gigabyte SD card I now have fourteen symphonies - nine by Beethoven, four by Bruckner and one by Berlioz. There are also three violin concertos, by Tchaikovsky, Schumann and Sibelius, as well as Schumann's piano concerto, Rachmaninov's 'Paganini' Rhapsody and assorted sacred works by Bruckner, including his E minor Mass - and there's still room for two or three more major works! My father's problem was finding room to store his record collection, which always overflowed the full width storage space in the base of the Decola; mine is that these cards occupy so little space that they could very easily be lost. If this technology had been available in the 'fifties Dad could have carried his entire record collection around with him in his jacket pocket!
At the end of 1956 we moved from Edinburgh to Lincolnshire. There was a recess beside the fireplace in our new living room which was the obvious place for the radiogram. But the Decola didn't fit comfortably into this space. It would have to be replaced! Dad bought a Marconiphone radiogram. He was distraught at having to give up his Decola and maintained that nothing would produce the same sound quality. However, he soon warmed to the new Marconi and eventually admitted that it actually sounded better than the Decca. And there were other compensations. The new machine could play the new-fangled 'long-playing' records; at last, a complete symphony in one sitting! When he bought the Marconi he also bought an LP to go with it. Just the one - LP's were really expensive in those days. It was a recording of Schubert's 'Unfinished' symphony coupled with Mendelssohns 'Italian' symphony played by the Philharmonia Orchestra. This was the old, original Philharmonia, before it became self-governing. The conductor was Guido Cantelli. Just a few months earlier, in 1956, Cantelli had been tragically killed in a Paris air crash - just one week after being appointed Musical Director at La Scala, Milan. He was only 36.
I still have that recording, though it hasn't graced a turntable in over forty years. The sleeve has seen better days, but then so have I - and it's only a few years younger than I am! That recording was to have been the start of my father's new, up-to-date record collection - but the collection grew no further. There was an ironic twist to the choice of a recording by a conductor who had died prematurely for, within months of buying it, Dad was diagnosed with cancer. He died, in January 1958 - just three days short of his 48th birthday.
If Dad could come back today he would be amazed by the advances in technology. Earlier in the 'fifties, before we had caught up with the LP revolution, we had acquired our first television, 'black and white' of course, and, like so many early TV sets in the UK, bought in time for the Coronation. A few years later we were experiencing the first live TV from outside the UK. Who remembers those early 'Eurovision' broadcasts with their 'snowy' pictures and frequent breaks in transmission? I remember, in 1955 when I was 10, watching, fascinated, a live transmission of a carnival procession from an Austrian town. The picture quality was awful - you could see you were looking at a street and that there was movement of some kind but the procession was no more than a snowy mass moving diagonally across the screen. Nevertheless we eagerly watched the whole programme. Today we expect to be able to watch, as they happen, such things as live championship tennis from Australia, the World Cup from Brazil, the main news events from around the world - all in crystal clear colour as though they were taking place no further away than our own backyard!
Yes, things have come a long way since we all sat glued to our TV sets in 1953 watching the colourful pageantry of the Coronation unfold - all in glorious black and white, of course!
Copyright © Mike Nagel 2007